Mexico is Producing Some Of the Most Interesting Wines For Summer & Beyond
@monte_xanic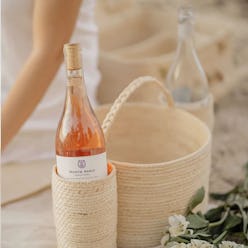 We may receive a portion of sales if you purchase a product through a link in this article.
When it comes to the world's spectacular wine regions, the mind usually wanders first to California, France, Italy, Spain, Australia, and South Africa. But Mexico is stepping into the spotlight and giving these renowned locations a run for their money, becoming a fan favorite for international oenophiles. The North American nation is long famous for its spirits like tequila and mezcal, but it's proving that the wine produced south of the border is anything but a basic beverage.
While Mexican wine may be new to U.S. wine enthusiasts, Lulú Martinez Ojeda, winemaker, consultant, and partner at Bruma Winery and Casa Jipi in Valle de Guadalupe, Baja California, says the country's wine tradition goes way back. "My great-great-grandmother planted a vineyard more than 80 years ago here," she says, "I am now producing wine with those grapes."
Ojeda notes that drinking wine and pairing it with good food is "in our [Mexicans'] genes," but there are other factors that make viticulture so successful in Mexico. "There are very few regions in the world where you have such a rich gastronomical and enological offering with such proximity and authenticity," she says. She also emphasizes the importance of the human aspect, and no government regulations on the industry, that help make the wines coming out of Mexico so interesting. "The lack of rules and youth of the winemakers allows us to offer unique wines that push boundaries — it's exciting and bubbling with creativity."
Alberto Verdeja Ayala, a winemaker at Casa Pedro Domecq, echoes Martinez's sentiment. "I consider Mexican wines to have such a unique character inherited through a tradition of innovation with no limitations," he says. "It speaks for itself about our land, culture, and people who work hard in the fields to transform the soil with beauty and quality into great wines throughout our different regions."
Like any other wine-producing country, Mexico has multiple regions that grow different types of wine grapes and have different climates and soils that help make each wine unique. "Baja California has the largest wine production in Mexico, followed by Coahuila, Queretaro, and Guanajuato," Verdeja Ayala shares. "The main differences are the rainy season, the temperatures of the valleys, and the soil components. Baja California and Coahuila stand out for their red wines while the rest of the producers in central Mexico for their white and rosé wines," he adds.
Both experts agree that Mexico produces considerably larger amounts of red wine than white, and according to Verdeja Ayala, there are a few reasons why this is the case. The first is the people of Mexico tend to consume more red wines. The second has to do with the environment. "Noble varietals have been planted that adapt very well to many types of soils and climates," says Verdeja Ayala. "For reds, varietals such as Cabernet Sauvignon, Merlot, Grenache, and Tempranillo can be found."
Though they are less plentiful, other varietals are still making exciting waves on the Mexican wine horizon. Verdeja Ayala continues by explaining that Macabeo or Semillón grapes are used for sparkling wines while Chardonnay, Colombard, and Chenin Blanc are grown for whites.
Martinez Ojeda agrees with Verdeja Ayala's assessment and says "around 70%" of wines produced in Mexico are red, but she's chosen to carve her own path. "I do things the other way around. I make 70% of whites and rosé in Bruma," she shares. "I think it makes sense with our weather and food."
Another thing that makes the wines stand out is the "huge focus on sustainability throughout all regions," that produce wine in Mexico, particularly, "given the issues of water in the high desert of the Valle de Guadalupe, one of the most prolific regions in Northern Baja," sommelier and Nossa Imports founder Dale Ott says. Her husband and business partner Stephen explains the lead smaller Mexican wineries are taking to make production a more environmentally friendly process. "Most wineries are gravity-fed, many are using native yeast, and a large swath are using minimum intervention techniques," he says.
Rules Of Thumb
Even with a newfound appreciation of Mexican wines, it can still be tricky to navigate the wine aisle at the store. Not to worry, our experts have some tips to make your shopping excursion easy. Martinez Ojeda starts with helpful hints on where to shop. "In the United States you can find Mexican wines in Total Wine, K&L wines, Central Market, HEVs, Whole Foods, and plenty of small boutique stores like Wine Connection in Del Mar or Mirate in Los Feliz, CA" she says.
And when it comes to choosing an actual bottle, reading is your friend. "I recommend making sure the region is indicated on the label or back label," she advises. This information is helpful in discerning the style and flavor of the wine. Once you find a region you like, you can continue to sample from other vineyards or varietals that come from the same region.
Verdeja Ayala adds that even though there isn't any regulation to ensure quality wines, there's one region he's partial to. "Valle de Guadalupe has made its name of qualitative wines for a long time," he says.
Stephen Ott suggests that people go slow and take their time. "You wouldn't be able to learn all about French wine in just a day, and the same applies here," he cautions. "The wines coming from this country are storied but also fresh and new, as they are the root of all wine production in North America, and they deserve a big seat at the international table."
Raise your glass to these expert-approved Mexican wines, ahead.